Community Councils represent the views - and take action to promote the interests of - the community.
Community Councils were created by the Local Government (Scotland) Act 1973. Local authorities have statutory oversight of Community Councils. Community Councils are the most local tier of statutory representation in Scotland. They bridge the gap between local authorities and communities, and help to make public bodies aware of the opinions and needs of the communities they represent. Their primary purpose is to ascertain and express the views of the community to the local authority and other public bodies. Many Community Councils also involve themselves in a wide range of other activities including fundraising, organising community events, undertaking environmental and educational projects and much more.
The Inverurie Community Council carries out a variety of roles, including:

Representing Community Councils on other organisations.
Campaigning on local issues.
Conducting local surveys.
Organising public meetings on major development proposals or the Local Plan.
Statutory Body for public consultation on Planning and Licensing.
To represent and provide a platform for public views.
All correspondence should be directed to the Secretary of Inverurie Community Council:
Inverurie.Secretary@outlook.com or call Heather on 07394 901262.

Heather Watt, Secretary, Inverurie Community Council, 4 Cairn Seat, Inverurie AB51 5JH
facebook.com/InverurieCC
twitter.com/InverurieCC

All face-to-face meetings of Inverurie Community Council have been postponed due to public health restrictions. The next ordinary meeting of Inverurie Community Council is on 19 April at 7pm, it will be held virtually therefore please get in touch with us using the contact details above should you wish to receive an invite to observe the meeting.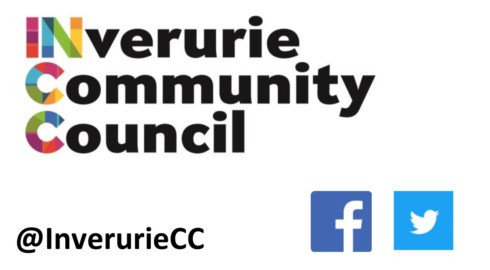 Inverurie Community Council - Find us on Facebook and Twitter