Community Councils represent the views - and take action to promote the interests of - the community.
Community Councils were created by the Local Government (Scotland) Act 1973. Local authorities have statutory oversight of Community Councils. Community Councils are the most local tier of statutory representation in Scotland. They bridge the gap between local authorities and communities, and help to make public bodies aware of the opinions and needs of the communities they represent. Their primary purpose is to ascertain and express the views of the community to the local authority and other public bodies. Many Community Councils also involve themselves in a wide range of other activities including fundraising, organising community events, undertaking environmental and educational projects and much more.
The Inverurie Community Council carries out a variety of roles, including:

Representing Community Councils on other organisations.
Campaigning on local issues.
Conducting local surveys.
Organising public meetings on major development proposals or the Local Plan.
Statutory Body for public consultation on Planning and Licensing.
To represent and provide a platform for public views.
Membership of Inverurie Community Council (2018 - 2021)

Chair - Archie Peebles
Vice Chair - John Sangster
Secretary - John Smith
Treasurer - Jane Summersgill
Digital Communications Secretary - Colin Wood
Members - Alison Auld, Martin Auld, Mike Hebenton, Rae Jardine, Fiona Peebles, Ron Reid, Steve Russell, Heather Watt.
All correspondence should be directed to the Secretary at Inverurie.Secretary@outlook.com

The next ordinary meeting of Inverurie Community Council will be held at 7pm on Monday, 20th May 2019 in the St. Mary's Centre, Inverurie.

Please note that the minutes from the previous meeting are to be taken as a draft, prior to formal Community Council approval.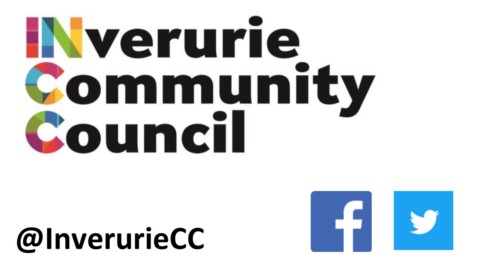 Find us on social media @InverurieCC