Inverurie BID
Read our current Business Plan here
We'd like you to get involved in the town – helping to keep it at the forefront of Aberdeenshire towns as a desirable place to work, live, play and do business in.
As part of this, a BID (Business Improvement District) was set up in Inverurie in August 2017 and reelected for another 5-year term in June 2022 to help keep Inverurie growing, developing and thriving.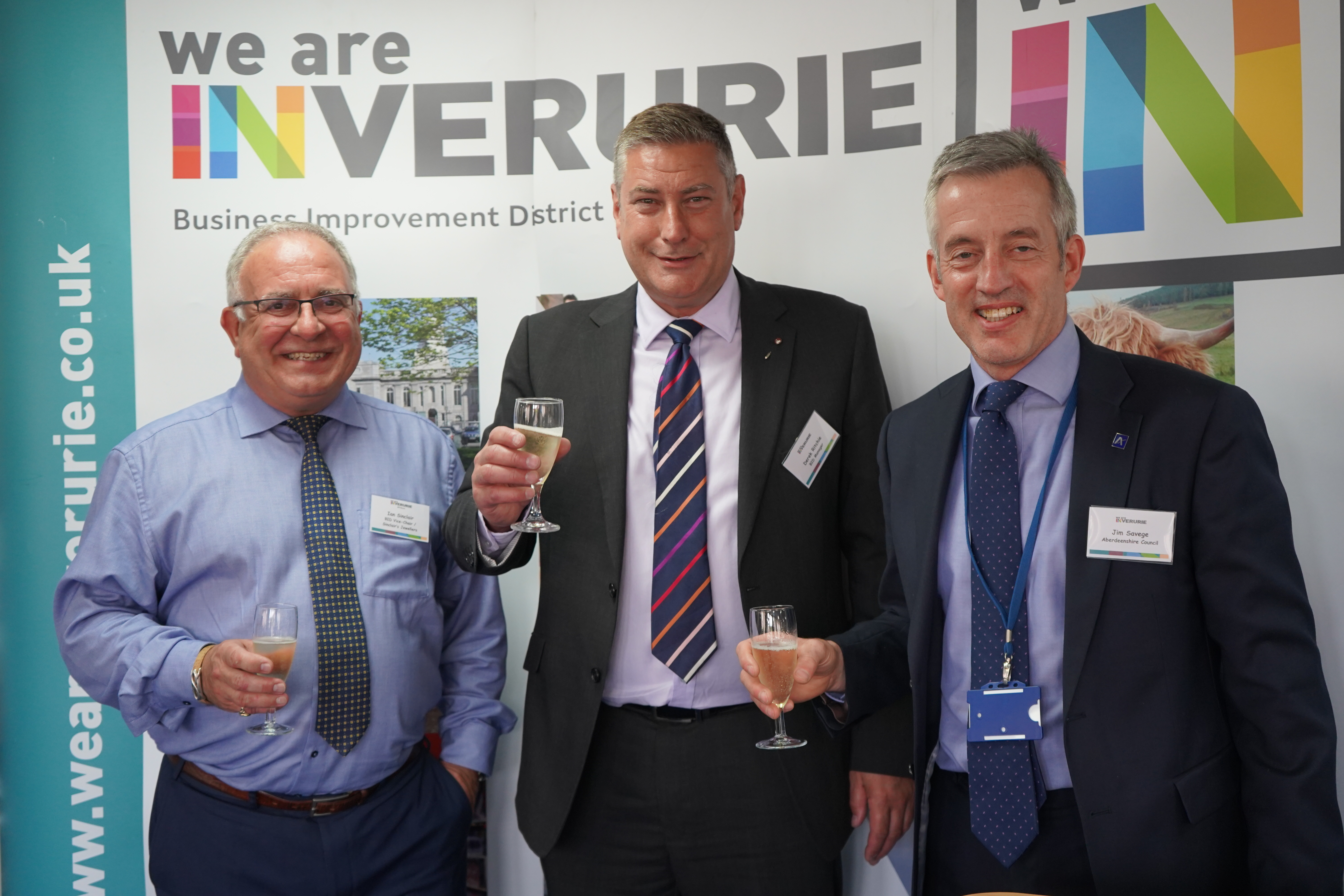 We Are INverurie Business Improvement District Successfully Re-elected for a Second 5-Year Term.

The team at INverurie BID are grateful for the support of their local member businesses in one of the Shire's best town centres as they are voted in to continue delivering their ambitious and effective programme of projects up to 2027.
As BID Manager, Derek Ritchie's, successful first term as BID Manager draws to a close, he has reflected on the past five years, highlighting the success of the BID, the future of BID and his gratitude for various key partners in the process.
Inverurie is a thriving town centre, filled with a good mix of quality independent businesses along with a wide range of the big-name nationals, who combined make Inverurie an active destination for shoppers and visitors alike.
Partnership and collaboration have helped deliver a number of the key projects and events in the town centre and we will continue to build on the successes by proactively working with our key partners; Aberdeenshire Council, Inverurie Environmental Initiative, Inverurie Business Association, Inverurie Events, Inverurie Community Council, Inverurie Rotary Club, Garioch Heritage Centre and recently launched SCIO, Evolving Inverurie.
Following various business consultations, We Are Inverurie's next term will see our:

Implementation of modern CCTV for maximum coverage and security of INverurie town centre
Continued social media coverage and marketing support for businesses and town centre.
The launch of an Inverurie E-Commerce App – for which funding has been secured and aiming to launch later this year in partnership with Market Ethically.
Combined savings on utilities and waste services.
Ongoing work to secure extra external funding.
Marketing, Training & Business Improvement.
Ongoing delivery of town centre events, mostly in partnership with Inverurie Events.
Expansion of the We Are Inverurie website E-Guides & members directory.
A helping hand to deliver and promote plans for an Inverurie District Heat Network
Effort to attract more visitors to help increase town centre footfall and spend.
A raised profile of the area by improving people's perception of the town.
Partnerships with various parties to help the proposed Transport Interchange at the railway station become a reality.
Research into the feasibility of a Public Art project for the town centre, with more information coming soon.
A cleaner, more attractive town centre.
Personally, I would like to thank the board of Inverurie BID for the backing and support I have received during what has been challenging times in the last couple of years. I feel that we have given Inverurie business owners valued support and promotion for their businesses and the collective town centre. It's worth noting that the partnership with our local digital agency, Market Ethically, over the last couple of years as a key part of our recent success. I also want to give my thanks to Suzanne Rhind and Susan Adams of Aberdeenshire Council for their continued support throughout the renewal ballot process.
From all at We Are Inverurie BID, a thank you the levy-payers who voted for our work to continue for a further five-year term. Exciting plans are coming in the new term and we are committed to continually delivering for INverurie.