19 April 2023
Get your event programme now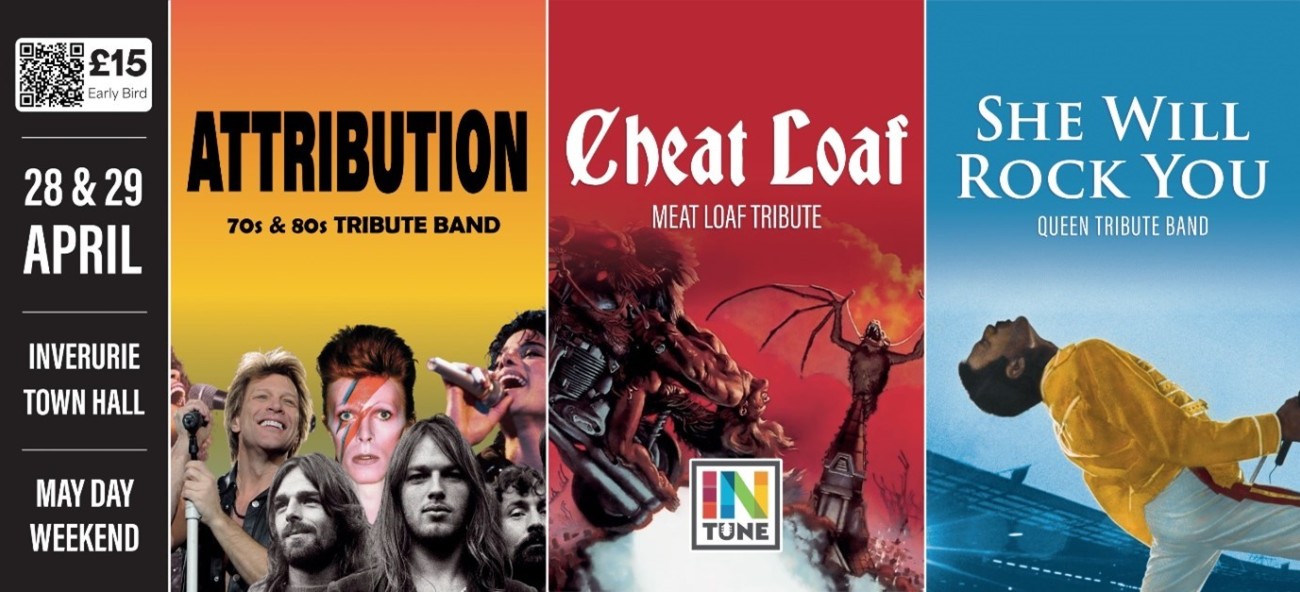 IN TUNE FESTIVAL: THE ULTIMATE TRIBUTE BAND EXPERIENCE
Download your event programme here
Inverurie is gearing up for the return of its much-loved IN Tune music festival. Featuring performances from some of the best tribute bands in the country, the stage is set for an unforgettable weekend! The music festival will take place over the May Day weekend starting on Friday 28th April and wrapping up on Monday 1st May.
On Friday 28th April, get ready to groove to the beat of Attribution, a live 6-piece band that will rock your world with their electrifying performances of your favourite 70s and 80s anthems! From the funky sounds of disco to the electric guitar riffs of rock and roll, this band covers it all. They've got a wide range of musical styles to draw from, and they do it all with a level of energy and enthusiasm that's infectious.
Then, on Saturday 29th April, we are IN for a treat as tribute bands Cheat Loaf & She Will Rock You will be taking to the stage to put on the performance of a lifetime! Cheat Loaf are a high-energy tribute band that plays all the classic Meat Loaf hits, from "Bat Out of Hell" to "I'd Do Anything for Love (But I Won't Do That)." Their shows are a spectacle of lights and sound, with powerful vocals, stunning guitar solos, and driving bass and drums that will keep you dancing all night long. For those who want to relive the magic of a Queen concert, there's nothing better than seeing She Will Rock You live in action. They don't just play the music, they embody the spirit of Freddie Mercury's live performances, bringing the same energy and passion to the stage.
The festival draws to a close on Sunday the 30th of April and Monday the 1st of May, as the faces behind Lockdown Live Aberdeenshire go 'Unlocked' with a host of local performers ready to entertain their fans face-to-face.
Grab your tickets now and join IN for what's set to be the ultimate tribute band experience. Get ready to rock, roll, sing and dance along to some of the best music ever produced.
For more information and to purchase tickets, please visit our events page
ENDS
__________
Contact/Enquiries
• Derek Ritchie (Key Enquiries) – bidmanager@weareinverurie.co.uk
• Market Ethically (Media Enquiries) - hello@marketethically.co.uk