17 November 2021
INtroducing - Tax Assist INverurie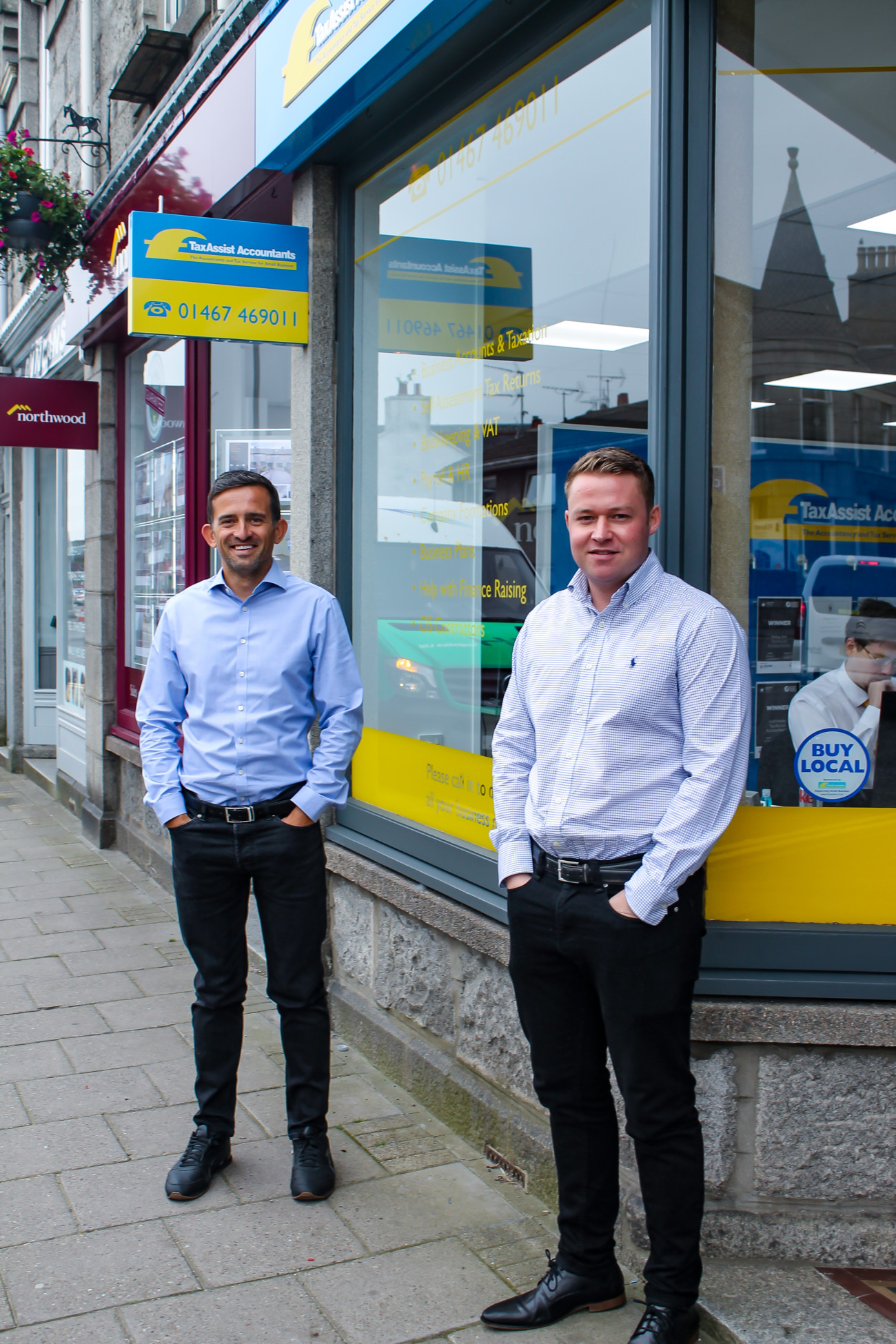 Inverurie is a vibrant town and attracts a lot of new businesses, particularly independent operators. With foot fall increasing, and people eager to get out and about and spend money, things are certainly looking more positive for our high streets. We are all keen to support each other and promote the buy local message and I'm looking forward to getting to know my fellow small business owners in the area.
Steven Mearns | Tax Assist Accountants, Inverurie

INVERURIE BID GOT OUT ON WEST HIGH ST TO WELCOME ONE OF THE NEWEST BUSINESSES TO OUR TOWN CENTRE – TAX ASSIST ACCOUNTANTS. HERE'S WHAT STEVEN MEARNS AND CAMERON ALLAN (CO-OWNERS) HAD TO SAY...
_______________
Steven how did Tax Assist come about?
So, I'm a chartered accountant and have always been entrepreneurial having started Northwood Lettings 13 years ago. My Father had asked me to get his business ready for sale and I realised what a fantastic opportunity it was to take over and grow.

...and, Cameron, how did you come to join Tax Assist?
Originally, I did a marketing degree at university. Within 6 months of graduating, I was offered a sales position in industry at an oil and gas services firm where Steven was the finance director. After deciding that I wanted a career in finance rather than sales, I moved to the finance team within the same company and began completing my accountancy exams. I got to know Steven very well whilst working there and when the opportunity arose to move and work alongside him at TaxAssist (pending his father's sale of the practice in 2017), I grabbed it with both hands.

Steven, what makes Tax Assist unique?
No accountants focus 100% on small businesses; generally, small businesses are the clients given to trainees which risks them getting lesser quality advice. We are 100% focused on small businesses only and focusing on honing our strong ethos and identity.
We are so proud to have grown to 4 offices. Tax Assist is over 25 years old – we have a great model that we don't deviate from. Bigger firms hire a multitude of experts for various departments e.g., payroll, vat, tax. This can be disjointed and expensive.
We are a holistic one-stop shop in-house business. We have a wide technical team with access to a shared resource of 100 staff and their expertise.
We offer a consistent, well priced service. Clients have one point of contact and deal with one person. We provide personal service with relationship managers based in each office. We don't deal with or have bigger clients as all are equally as important.

How are you preparing for 2022?
Our strategy from the beginning was to be involved and present in Inverurie. Offices are such a magnet for clients and local business owners in the vicinity of the office. Clients love speaking to us directly especially since we're in the vibrant high street with the strong local business bedrock.
Since opening, and with the pandemic, we haven't been able to engage with the nearby, small local businesses much. We hope to host a welcome event in early 2022 – where we can meet and get to know the local business community.